Flora
The Troodos mountains are considered to be one of the most important mountainous habitats for plant species in Europe. To date, from a total of 143 endemic species recorded on the island, 102 are endemic to Troodos and 47 of these are found only in the Geopark and nowhere else in Cyprus or indeed the world.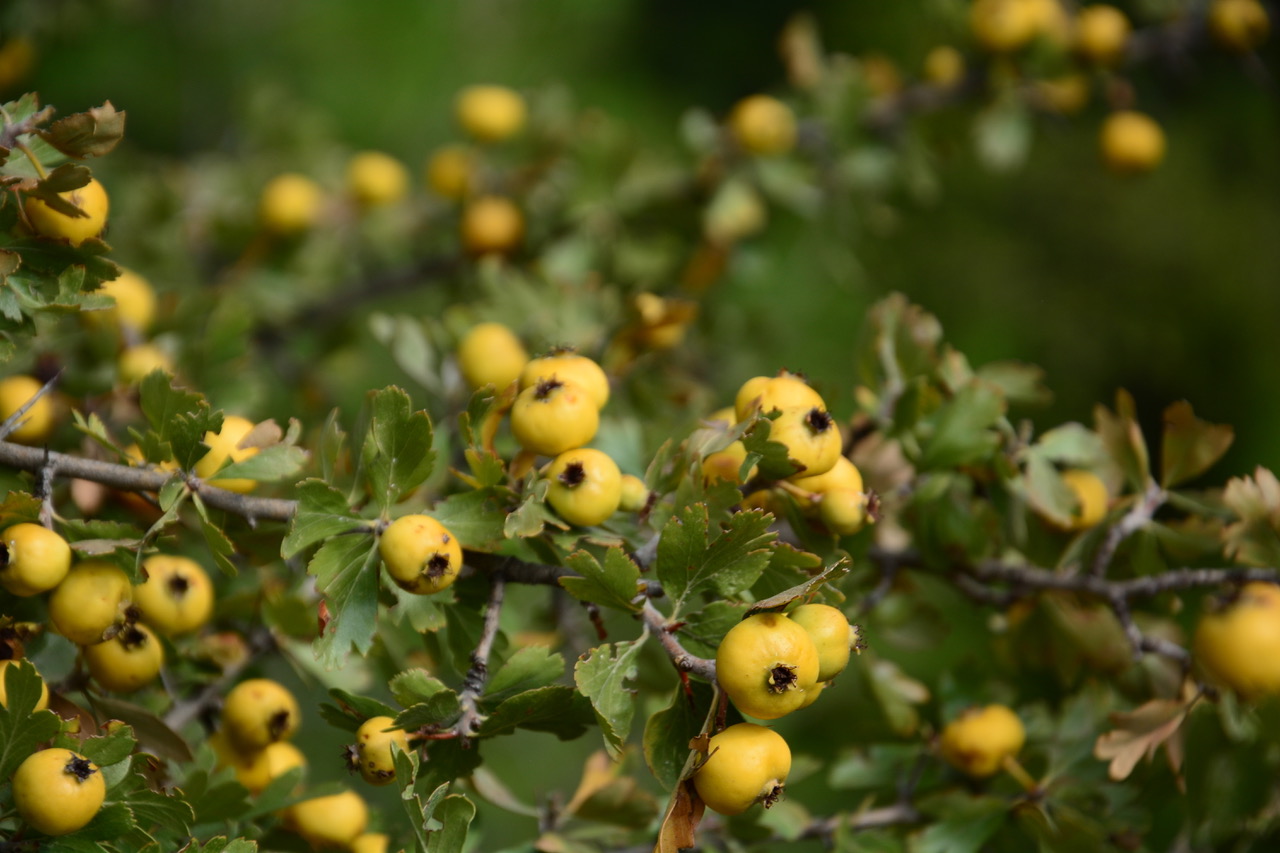 The mountainsides are covered to a large extent by a dense pine forest (Pinus brutia). On the slopes of the mountain ravines ("arkaki"), there are many cypress trees (Cupressus semrervivens), plane trees (Platanus orientalis), bay-laurels (Laurus nobilis), alder trees (Alnus orientalis), and myrtle (Myrtus communis). Scattered across the mountainsides, many other species can be found such as the strawberry tree (Arbutus andrachne), scrub-oak (Quercus coccifera), wild olive trees (Olea europaea sylvestris), the beautiful wild medlar with its small, tasty fruit (Crataegus azarolus), dog-rose (Rosa canina) and the Cyprus maple (Acer obtusifolium). At higher altitudes, above 600 m., there are large areas of shrubland dominated by the endemic golden oak (Quercus alnifolia), and at even higher altitudes near the peaks there are many black pines (Pinus nigra), whitebeams (Sorbus aria), barberry (Berberis cretica) and four beautiful prickly juniper species that Cypriots call "aorato", meaning unseen or invisible (Juniperus oxycedrus).
Inhabitants of the area once cultivated many vineyards, most of which have unfortunately been abandoned. Recently, however, an effort has been made to regenerate some of the vineyards, mainly in the area of Kalopanayiotis village. In the mountainous villages of Marathasa, many apple and cherry trees are still cultivated, as well as almond and walnut trees. The wonderful local delicacy soutzoukos is made from their nuts and grape must.
Every autumn, before the first snows of winter, more than 100 species of mushroom spring up all over the mountains, some of which are edible and collected by the locals. The most delicious varieties are the red mushroom or saffron milkcap, (Lactarius deliciosus), the white mushroom or milk-white brittlegill (Russula delica), and the common Tricholoma caligatum. It is advisable not to collect or eat any mushrooms if you are not certain that they are edible.
In autumn, winter, and especially in the spring, hundreds of wildflowers blanket the mountains, springing up among trees, shrubs and rocks, vineyards and orchards. Among the most impressive are the 48 species of orchids and some beautiful endemics such as the Troodos Alyssum (Alyssum troodi), wild peonies (Paeonia mascula) and the Troodos Hound's tongue (Cynoglossum troodi).